Our Kindness Tree by Kora Brown, RECE
I am delighted and honoured to be "Showcased" here and share with you about our experience exploring Kindness in our Program. My Co-Teacher Sam and I felt that our preschool classroom might benefit from exploring the concept of kindness in our program. This lead to the creation of our kindness tree, with the children painting the branch which we hung from the ceiling and making the charms used to decorate it. Our intention was to "catch" moments of kindness as they happened and add a charm each time to encourage and celebrate the kindness we saw. As a class we decided on milestones to meet and once we reached a certain number of charms we celebrated our accomplishments as a group. To support this journey we have also read many stories about kindness, had discussions related to kindness and played a few games aswell as using photos of the children being kind to create a display to share with families and a book to explore in our classroom aswell.
At this point it has been 2 months since we began exploring the concept of kindness with our Preschoolers and it has been a amazing journey! I feel like this journey has brought our classroom closer together, and offered us more chances for connection on all levels. Parents have loved looking at photos of kindness happening in our room, and noting how proud they are of their children for being so kind. Parents have also shared their enthusiasm through our app and in person as we have introduced and shared about this journey and its has just offered such a beautiful way to connect and share about our program and highlight learning happening in the program aswell. The children's relationships with each other and their educators is much deeper as we've had these meaningful conversations, and noticed and celebrated kindness with each other. The children of our class have even been bringing their excitement for kindness home by having meaningful discussions and bringing kindness into their play. It's honestly been so heartwarming to see how this project became a central part of our class and our days, and how enjoyed it has been by all, its especially nice to have something the parents have been so eager and happy to hear about to connect them to our program.
I'm excited to continue this journey and see where else it takes us. I have shared some photos of our kindness tree, and of some questions we have used to guide our conversations about kindness with some of the children's responses.
Thank you and take care,
Kora Brown, RECE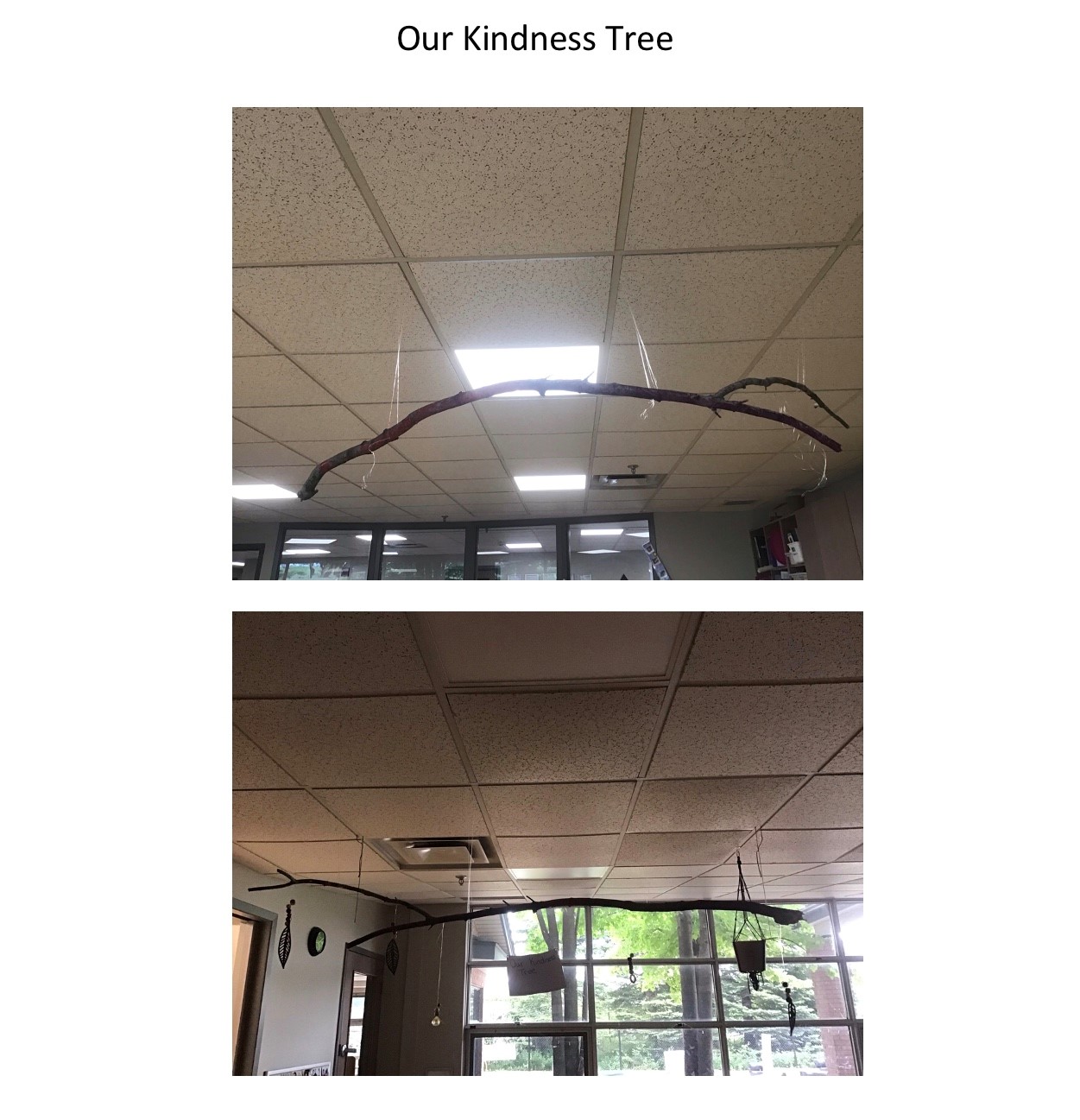 What Does Kindness look like?
Sharing

Being nice

Cuteness

Not using body as a weapon

Sweet hugs

Helpin birds (Referencing the stories Grumpy Bird and Boo Hoo Bird)

Hugging when we get hurt

Taking turns

Helping
How can we be kind in Preschool?
Help Teachers

Share toys

Hugs

Play

Help people clean up

Making friends feel better

Be kind to Earth
What does kindness feel like?
Loved

Happy

Not sad anymore

Good

Really happy
How can we be kind?
Using gentle hands

Helping to tie shoes

Helping others

Sharing
Where does kindness live?
In our hearts

In our bodies

In our Kindness Tree

In houses

At the park
How can we be kind to the Earth?
Be kind to animals

Feeding animals

Grow a tree

Learn about the Earth

Picking up garbage

Helping people and creatures